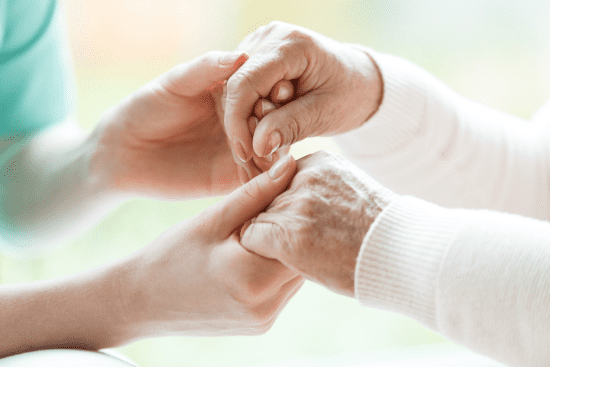 Good mental health can be hard to maintain if you are taking care of elderly relatives. It is hard enough in 'normal times' and this last year and especially this last lockdown has been an uphill struggle in keeping a positive outlook.
Because of the lockdown, the usual help from friends and families has left carers with little respite. This leaves more pressure and responsibility on the carer. Not being able to leave the house without a good reason, the world seems to have become much smaller. At times much like living in a pressure cooker.
It can also feel like Ground Hog day. You wake up and do the same old thing. If you are looking after someone, your day may look like this:
Giving someone their medication, ensuring they take it probably several times a day,
Making sure they are eating well, by shopping, cooking, serving, and probably washing up too,
Preparing showers or baths,
Keeping in touch with others to let them know what's going on,
Listening to complaints, worries, and fears,
Taking care of the home, organising anything that may need attention,
Plus taking care of yourself and all the other things you need to do for yourself,
The range of responsibilities for carers is being a cook, a cleaner, a social secretary, a counsellor, handyman, etc.
For good mental health – talk
Looking after the elderly can be hard and really challenging in another way. They may have regrets or had painful experiences in their lives. Sometimes depression can become an issue with all the hardships that old age can bring to some.
Thinking about the past can be happy or sad. Sometimes it is lovely to hear the happy memories but sometimes if they have gone through something traumatic it can be hard and distressing listening to things that cannot be changed.
People in their 80s and 90s are called the 'Silent Generation'. Very much a generation that had to grin and bear a lot of things. Families lost members during the WW2 or just from illness and disease that is probably treatable today. All this tragedy and grief is passed down from generation to generation and hardly spoken of because it is too painful.
As we get older the internal defenses we were able to maintain weaken. That is often when people find after a lifetime of not speaking want and feel the need to talk. Congratulate yourself if you are able to sit and listen, if you are not, work towards not being so hard on yourself.
Also, your relationship with your elder may have been difficult, particularly if it is a parent. Unresolved issues from childhood can leave you feeling deeply angry and resentful, especially if you felt emotionally or physically abandoned when you were young. You may have an intellectual understanding of your feelings but often the emotional side is less understanding.
Friends and family can be helpful but they may also have their own perspective. Many people want to solve a problem rather than just listen. Sometimes this is okay when we want to solve a practical problem. An emotional issue is different as mostly we don't want someone to solve this – as usually there is nothing that can be done – we just want someone to listen.
Could counselling/therapy help towards good mental health?
Counselling/therapy can be a relief to talk to someone who can just listen without interrupting or giving you their opinion. To give you space to validate your feelings. To help you just be in the moment of what you are thinking and feeling.
If you feel you could do with some impartial support please reach out to a professional whether through your GP or privately. Going through a GP means you may be offered antidepressants which can be useful short term or 6 – 8 sessions of therapy.
There is an abundance of psychotherapists and counsellors to choose from privately. If you feel some short-term therapy would be useful at least until this lockdown is over, look for someone you think could help.
The BACP is a good starting point as counsellors and therapists registered have all completed a BACP training course and are obliged to continue their professional education and also have insurance.
Many psychotherapists are working online which may be more convenient at this time.
Emotional well being
When it all gets too much take a deep breath while tapping on your collar bone. If you find this helpful then look into Emotional Freedom Techniques (EFT). This very simple technique can really help to manage good mental health.
Here is a Link to Brad Yates who is tapping for anxiety but there are many others on YouTube that you may find helpful. I have worked with carers and teaching them this technique has been very helpful to them and can pass this technique onto others who are experiencing anxiety and fear.
If you have never considered a support group for carers, give it some thought. Most meetings now are online which can be a problem for some people who do not have access to broadband but a godsend for others at this time.
If sleeping is a problem i.e. not enough or restless try The Mindful Movement Meditation. Play the video with or without headphones and just relax.
Disclaimer: These links are being provided as a convenience and for informational purposes only; they do not constitute an endorsement or an approval by Cynthia Rao Counselling.
Contact Cynthia Rao call 07947071908